The Role of Macrophages in the Pathogenesis of HHT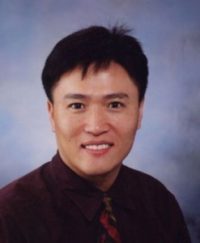 Suk Paul Oh, PhD from the University of Florida has been awarded a $50,000 grant from Cure HHT for his research entitled "The Role of Macrophages in the Pathogenesis of HHT".
Dr. Oh's Cure HHT seed grant has been leveraged to $1.5MM through NIH
Proposed Research Study
Dr. Oh's hypothesis is that ALK1 or ENG-deficient endothelial cells promote recruitment of monocytes/macrophages and differentiation of them to play a crucial role in the development of AVMs. His laboratory focused on testing this hypothesis with genetic, pharmacological, and cellular approaches. According to Dr. Oh, "Our state-of-the-art in vivo and in vitro approaches would uncover novel mechanisms underlying HHT pathogenesis as well as to evaluate potential therapeutic modalities, targeting macrophage recruitment or activation instead of targeting angiogenesis, for epistaxis and other visceral AVMs using HHT1 and HHT2 models."
Results from the proposed study would provide a narrower target of VEGF, which would leave the important beneficial effect of VEGF and VEGFR2 in response to wounds or inflammation functionally intact, while achieving the same preventing effect for AVM development." Thus, novel therapies with much lower potential side effects than bevacizumab (Avastin) would be available for HHT patients. Dr. Oh's study would allow HHT communities to repurpose these drugs to treat HHT patients.
The funding of this grant is made possible by The Olitsky Family Foundation and The Jeffrey A. Blevins Memorial Fund.
Research Study Update
"Cure HHT's funding for a bridge grant allowed me to continue this project and then successfully obtained an NIH R01 funding for 4 years, $250,000 per year, with additional $125,000/per year provided to University of Florida for overhead and administrative costs. I was able to leverage the $50,000 Cure HHT grant into $1.5MM  grant through National Institutes of Health (NIH) beginning June 2015," stated Dr. Oh.
The overarching hypothesis in this project is to determine if cells known as macrophages are essential for the formation of AVMs in HHT patients. These cells have not been tested in any research until now. In testing this hypothesis and if the results prove true, then numerous drugs, which had not been considered in the past, that block macrophage migration, differentiation, proliferation, or survival, can be considered potential therapies for HHT.
Since macrophages are involved in tumor blood vessel growth and metastasis, numerous drugs targeting recruitment and activation of these cells have been developed.  Dr. Oh's studies will allow the HHT community to repurpose these drugs to treat HHT patients.